Location: It is about 18km from Vinh City.
Direction: Today visitors can come to Cua Lo by car, by rail, by boat or even by air.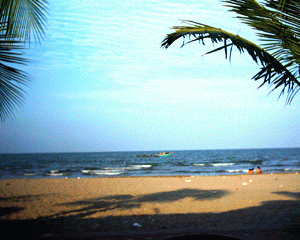 Cua Lo Beach
Stretching along the coast of South China Sea, Cua Lo tourist area in Cua Lo town ship is embraced by two sea mouth, Cua Hoi to the north and Cua Lo to the south. The 10 kilometre long Cua Lo Beach has gradual elevation, smooth sands, clean and limpid water, which is not as muddy as of other beaches. On the beach there are many large verdant sea pine and coconut palm gardens. With high salinity, Cua Lo Beach is considered as one of the most ideal beaches of Vietnam.
Lying offshore to the north of Cua Lo, Lan Chau island features a mountain, at the foot of which are a number of hefty stones such as of sitting man. One stone is called Mr. Dung (Mr. Big), the other is called Thiet Han God of Shaping. In 1936, Bao Dai King built a holiday villa on top of the mountain and brought sea chrysanthemum from France to plant here, making this sea township more colorful.
Four kilometres offshore to the southeast, looking like two huge fish protecting Cua Hoi from storms and whirlwinds, is Song Ngu island.
On Quynh Nhai island, which is 20 kilometre offshore, two molehills look like a pair of eyes when viewed from the mainland, earning the island the name of Mat or "Eye" island. On the island to the southeast are heaving and overlapped rocks, inside of which is a marvelous cave called Angel's Cave. Lying on the top of the island is a large cave named An Lac Cave. The coastal populations still remember a legend of "Mrs. To Nuong is waiting for her husband in desperation" saying that: Mrs. To Nuong was born in An Lac, Son Tay. Her husband's native land was Ham Hoan (today known as Nghe region). Mrs. To Nuong and her husband were generals of the Trung sisters' army. When the rebellion was repressed, they dispersed in different directions. Mrs. To Nuong decided to sail for Ham Hoan to look for her husband. On her way, she was storm-bound in Quynh Nhai island. Without means of travel, she was exhausted and had to stay in the island, eyeing fixedly towards her husband native land. Since then, this island was named "Eye" island.
Cua Lo tourist are undergoing metamorphosis through uninterrupted development of infrastructure and supporting services, especially tourism services, modern multi-storey hotels and leisure areas.
Every year on May 1st on the occasion of International Labour Day and also Cua Lo Water Festival, Cua Lo tourist site launches its tourist season. The festival includes various traditional games such as boat race.
Vestige: Nguyen Su Hoi Temple
Attraction: Cua Lo Beach, Chua Beach - Ngu Island, Nghi Thiet Beach
Specialty: Fresh Cuttlefish
Festival: Cua Lo Waterways Festival
The surrounding: Nguyen Xy Temple, Cuong Temple - Hien Port
Location: Stretching along the coast of South China Sea, Cua Lo Beach belong to Cua Lo Town.